Luka: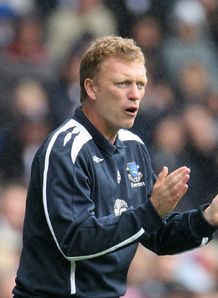 1) David Moyes has pretty much cemented his claim to best manager in Merseyside. Not to keep with the torrent of anti-Benitez screed being poured (most of it ridiculous and vindictive stuff), but to draw Liverpool and Arsenal away with that "what is it?" 4-6-0 is just brilliant stuff. He's really created a club that plays together as a team and clearly wants to take games. Cahill and Lescott have some of the best heads in England at the moment, and Fellaini has turned the "look at his hair!" peanut gallery into a respectful crowd. Yakubu? Who needs him?
2) Benitez is not "cracking under the pressure," hes just being Rafael Benitez. Ownership intrigues/accusations against the big club in town of referee influencing/inexplicable substitutions/negative football are his stock and trade. Anyone who has watched Valencia and Liverpool over the past decade should know the Benitez we saw at the beginning of the year, throwing on players to get the win and playing offensive squads, was an anomaly. Welcome back Rafa.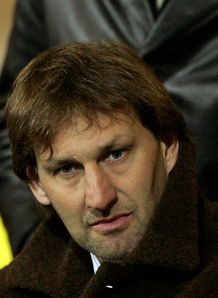 3) Pompey is bracing for the drop. They've shown no ambition to keep quality players, and Tony Adams is clearly having his career eaten alive by trying to pilot a sinking ship. Even Stoke is struggling and hard fouling their way to scramble out of the relegation zone. Pompey just seems to have accepted a fall and begun clearing house for it. Sad stuff this economy has done to a likeable and fun mid-table club.
4) There's going to be a battle for fourth, and not the one you expected. Liverpool obviously can't keep on the slide much longer, and the heart of guys like Jamie Carragher and Steven Gerrard should pull them back up. But with John Carew back in place with Gabby Ag, Emile Heskey the top-form player above 30 and Wilfred Bouma ready to slot into Martin Laursen's place, Villa could be a threat to eclipse a dejected Liverpool side. Liverpool should pick themselves up by the bootstraps fast unless they want to be fighting for Champions League survival. Liverpool is clearly missing both Emiliano Insua and Xabi Alonso. They can't come back soon enough.
5) Andrei Arshavin. Can anyone tell me why Arsenal needs another volatile but creatively gifted winger/striker/attacking midfielder guy who plays in that nebulous little undefined zone that Arsene Wenger loves? Arsenal's whole team is in danger of being sucked into the black hole that is their central midfield just so Wenger can keep the Ars- symmetry of his beautiful squad intact.
Bonus: What happened to Alfonso Alves? This guy was scoring a goal plus every game, one time even
seven in one game
over in the Eredivisie (admittedly, even Dirk Kuyt was able to look like a Michael Owen there), but 4 goals in 21 starts? This guy was supposed to revolutionize Boro, link up with Stewart Downing and make them a mid-table team to fear. Where's the magic?
Gino: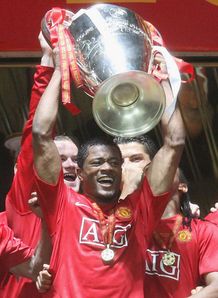 1) Patrice Evra. I don't like Man U. I don't like most of their players and I just don't like the whole team in general. But I gladly make an exception for Patrice Evra, he is surely one of the best backs around today. Manchester made a bad start and were finding their way back to the top, but something was missing. Their performances were getting progressively worse and it was only a matter of time until they would fail to score that goal that made the difference so many times this season. But time after time Patrice would be there to make the difference. Storming up and down on the flanks with such tenacity and providing an instant lift for the team. These performances have placed Manchester in the top position yet again, although a lot of people thought the title race would purely be between Liverpool and Chelsea. Damn it Fergie, you've done it again.
2) The Young a.k.a De Jong. Back in his Ajax days this guy could get me so raged. No one really knew what he was, was he a midfielder? An attacking midfielder? What side did he play on? No one knew. And he also had the nasty habit of clutching the ball under his foot everytime he got it. Then he would take a nice look around and check out all the possibilities where he could play, ruthlessly taking all the speed out of an attack. He got his name on the scoring sheet quite a lot but the fans never really knew what his real value was for the squad. He was just... there. Then came the move to HSV, he became a man. He looked at himself and said "What kind of player am I. What is my purpose on the pitch?" From there on he developed himself to one of the most efficient ball winners in the Bundesliga and continued his level of performances in the dutch national squad at the euros last year. With this kind of focus and his professional approach he can grow out to be a player with the same capacities as Gattuso, Cambiasso or Makelele. A player which is needed in every top team, who wins the ball and gets it to another man who can set up an attack and at the same time prevents the other team from doing just this. So as long as he can keep his feet on the ground with the money he's making now, I see a great future ahead of him.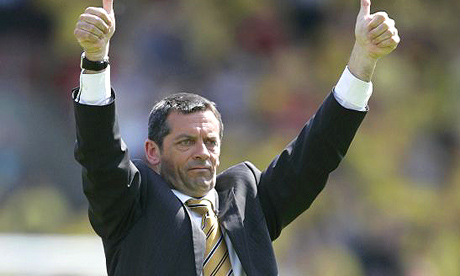 3) The main thing I like about Hull is Phil Brown. This charismatic leader got Hull off to one of the most insane starts a Premier League newcomer has ever had. Grabbing wins against top 4 teams and pumping out class performances like they've been in the Premier League for ages. You can see Brown is a real motivator, he gets players in the right state of mind to give everything for the team and stay focused for the full 90 minutes. The best example of his character was his
half-time team talk
during the Man City game (4-0 behind after the first 45 minutes). The players were already heading back to the dressing room but Phil had them sit down on the field and gave his team talk there in front of all the fans. Surrounded by the sole reason they are on the field for in the first place (the fans), the team witnessed Phil Brown trying to make a statement. Keep focused and keep on working for the team. That, next to some great transfers, is the key to Hull's performances. But with such small differences it'll still be a major task for the Tigers to survive in the Premier League.