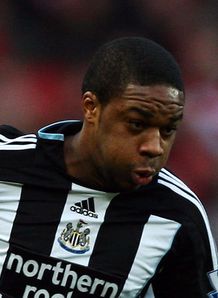 After only a couple days' commotion, Charles Insomnia... er... In'zomnia... Charles... (pictured to the left
fleeing from Andy Carroll
) appears to be packing for Wigan after possibly the
shortest manager bust-up to transfer in recent memory
. £6 million and Ryan Taylor will see the formerly well-loved Newcastle winger off from the rapidly sinking Tyneside club to newer, thicker-striped pastures.
Such obvious loyalty and love of club should endear him to Latics fans immediately.
Bolton has also
bid an incredible £14m
for one of my favorite players, Sporting's deep-lying playmaker/defensive midfielder/all-around insane midfield talent Miguel Veloso. I'd love to see him in the Premier League, but Bolton? Hold the pen on that one, Miguel.
In La Liga Real Madrid managed to get Julien Faubert on loan as their new right winger. For a fee of €1.5 million, the experienced winger will play for los Merengues until this summer. Earlier, Aaron Lennon, Jermaine Pennant and Antonio Valencia were linked with Real to fill the gap out wide. Faubert joined West Ham in 2007 and featured in 27 games but never managed to find the net.
Updates will continue as news arrives.